Incredible opportunity to gain a world-class education
Study In USA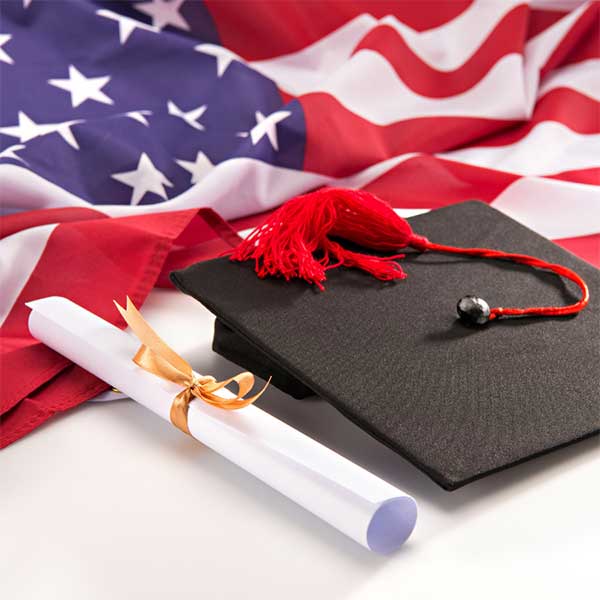 The United States offers a world-class education system that is highly respected around the globe. Studying in the US is a life-changing experience that provides top-notch education and immerses you in a diverse and dynamic culture. From prestigious universities to community colleges, the US has various educational institutions catering to every academic and career interest. Students can also benefit from extensive research opportunities, innovative teaching methods, and access to cutting-edge technology. Moreover, studying in the US can enhance your career prospects and open up doors to new opportunities. With a wealth of resources, excellent support services, and a welcoming environment, the US is the ideal destination for students who want to broaden their horizons and reach their full potential.
Why do I need to study in USA?
The USA has some of the world's top-ranked universities and colleges offering a diverse range of programs, including STEM, arts, business, and humanities.
American universities are known for their cutting-edge research facilities, providing students with ample opportunities to conduct research and gain hands-on experience.
The USA offers excellent job opportunities for graduates in various fields. Studying in the USA can give you an edge over others in the job market.
The USA is a melting pot of different cultures and backgrounds, providing international students with a unique opportunity to experience new cultures and make new friends.
English language proficiency
Studying in the USA can help improve your English language proficiency, which can be an asset in the global job market.
Innovation and entrepreneurship
The USA is known for its entrepreneurial spirit and innovation, with many start-ups and tech companies emerging from American universities.
Flexible education system
The American education system is flexible, allowing students to choose their courses and tailor their education to their interests and goals.
Who can study in the USA as an international student?
International students who meet certain requirements can study in the USA. These requirements typically include:
Having a valid passport

Being accepted into a SEVP-approved school or program

Demonstrating sufficient financial resources to cover tuition, living expenses, and other costs

Meeting any language proficiency requirements set by the school or program

Obtaining a student visa (F-1 or M-1) from a US embassy or consulate
What are the requirements to get a student visa to study in the USA?
To obtain a student visa to study in the USA, international students must fulfill the following requirements:
Some Important
Terms to Remember
An I-20 is a Certificate of Eligibility for Nonimmigrant Student Status. It is a document issued by a school in the United States to an international student that confirms the student's admission and outlines the terms and conditions of their visa status. The I-20 is required for international students to apply for an F-1 student visa or to maintain their legal status while studying in the United States. It contains important information such as the student's program start and end dates, the estimated cost of attendance, and the student's financial support.
OPT stands for Optional Practical Training, which is a program that allows international students in the United States to work in their field of study after completing their degree. OPT is available to students on F-1 visas who have completed at least one academic year of study in the US. OPT allows students to gain practical work experience and apply their knowledge and skills in a professional setting. There are two types of OPT: pre-completion OPT, which allows students to work up to 20 hours per week while still enrolled in school, and post-completion OPT, which allows students to work full-time for up to 12 months after completing their degree. Students in certain fields may be eligible for a 24-month extension of their post-completion OPT period. OPT is an important opportunity for international students to gain valuable work experience and enhance their career prospects.
SEVIS (Student and Exchange Visitor Information System) fee is a fee that international students, exchange visitors, and their dependents must pay to the U.S. government. The fee is required to cover the costs of administering the SEVIS program, which tracks and monitors the status and activities of international students and exchange visitors while they are in the United States. The SEVIS fee must be paid before applying for a visa or entering the United States, and is a one-time fee, unless a student or exchange visitor changes their visa status or their SEVIS record requires corrections or updates.
An appointment at a US embassy is typically required for any non-US citizen who wishes to apply for a visa to enter the United States. This includes student visas, tourist visas, and business visas. To schedule an appointment at a US embassy, you will typically need to visit the embassy's website and follow the instructions for scheduling an appointment. You may need to provide personal information, pay a fee, and schedule an interview at the embassy. During the interview, you will typically be asked questions about your background, travel plans, and other relevant information to determine whether you are eligible for a visa to enter the United States.
An F1 visa is a non-immigrant student visa that allows foreign nationals to pursue academic studies and/or language training programs in the United States. The F1 visa is issued by the U.S. Department of State to international students who have been accepted by a Student and Exchange Visitor Program (SEVP)-approved school in the U.S. The F1 visa holder must maintain a full course of study and make progress towards completing their degree program in order to maintain their status in the U.S. Additionally, F1 visa holders may be eligible for certain employment opportunities on campus or with authorized off-campus employers through Curricular Practical Training (CPT) and Optional Practical Training (OPT) programs.
The F-2 visa is a nonimmigrant visa that allows dependents of F-1 visa holders to enter and stay in the United States. F-2 visas are issued to spouses and unmarried children under the age of 21. F-2 visa holders are not allowed to work but may attend school part-time. They are also allowed to leave and re-enter the United States as long as their F-1 visa-holder spouse or parent maintains their status.
CPT stands for Curricular Practical Training, which is a program that allows F-1 students in the United States to gain practical work experience related to their field of study. CPT is designed to provide students with the opportunity to apply their classroom learning to real-world situations and to gain practical skills and knowledge that will help them in their future careers. CPT can be part-time or full-time, and it can be paid or unpaid. To be eligible for CPT, students must have been enrolled full-time for at least one academic year and must have a job offer related to their field of study.
DS-160 is an online non-immigrant visa application form that is required for most temporary US visas, including student visas (F-1 visa). The form includes questions about the applicant's personal information, education, employment history, travel history, and purpose of travel. The information provided in the DS-160 form is used by the US embassy or consulate to determine the applicant's eligibility for the visa. The form must be completed and submitted online before the visa interview appointment.